As we begin the GREEN phase of reopening Washington County during COVID-19 pandemic in this National State of Emergency and following the advice of Health officials, the Township continues to take prudent and proactive steps to protect the general public, as well as our employees, by limiting public personal contact as much as possible. Be assured the Township will continue to provide all services, as we have throughout this state of emergency as normal with little or no interruption. These steps help ensure that we can continue to keep your Township services functioning, so that we can continue to serve our residents in a safe manner, especially for emergency situations. The following policies are being implemented for the GREEN phase, but will be evaluated on a regular basis as information changes.
Parks

Parks remain open for passive recreation opportunities, but residents are asked to maintain a 6' social distance
Playgrounds are reopened, but residents are advised to play at your own risk, as playground cleaning will be limited in accordance with CDC recommendations.
Parents are reminded to help their children maintain a 6' social distance from others, and avoid crowded play areas.
Please wash your hands or hand sanitize before or after playing on any equipment
Parents are advised to bring hand sanitizer from home in case restrooms aren't available.
Always avoid touching your face to prevent the spread of germs.
PLEASE stay home if you are sick.
Pavilion rentals are expected to resume July 1, 2020, but with 50 % capacity in accordance with CDC guidelines
Restrooms will be open whenever possible and cleaned and stocked throughout the day
Restroom doors will be propped open to limit the spread of germs on door handles
Basketball courts will be available, but residents are asked to refrain from large gatherings of groups greater than 25 on or around the court.
The Parks and Recreation Board is comprised of nine members who make recommendations on all park related issues, including improvements, equipment and the scheduling of activities in Township parks. If you would like to reserve the pavilions located in Arnold Park or the Allison Parkette, please contact the Township office.
The Parks Committee undertook a Parks, Recreation and Open Space Plan study in 2015, meeting with user groups and the community. It was formally adopted by the Board of Supervisors in July of 2016. This plan looks at the Township's Recreational Facilities, programs, needs and opportunities. Please take time to read the entire Parks Recreation and Open Space Plan or the Executive Summary.
---
Upcoming Events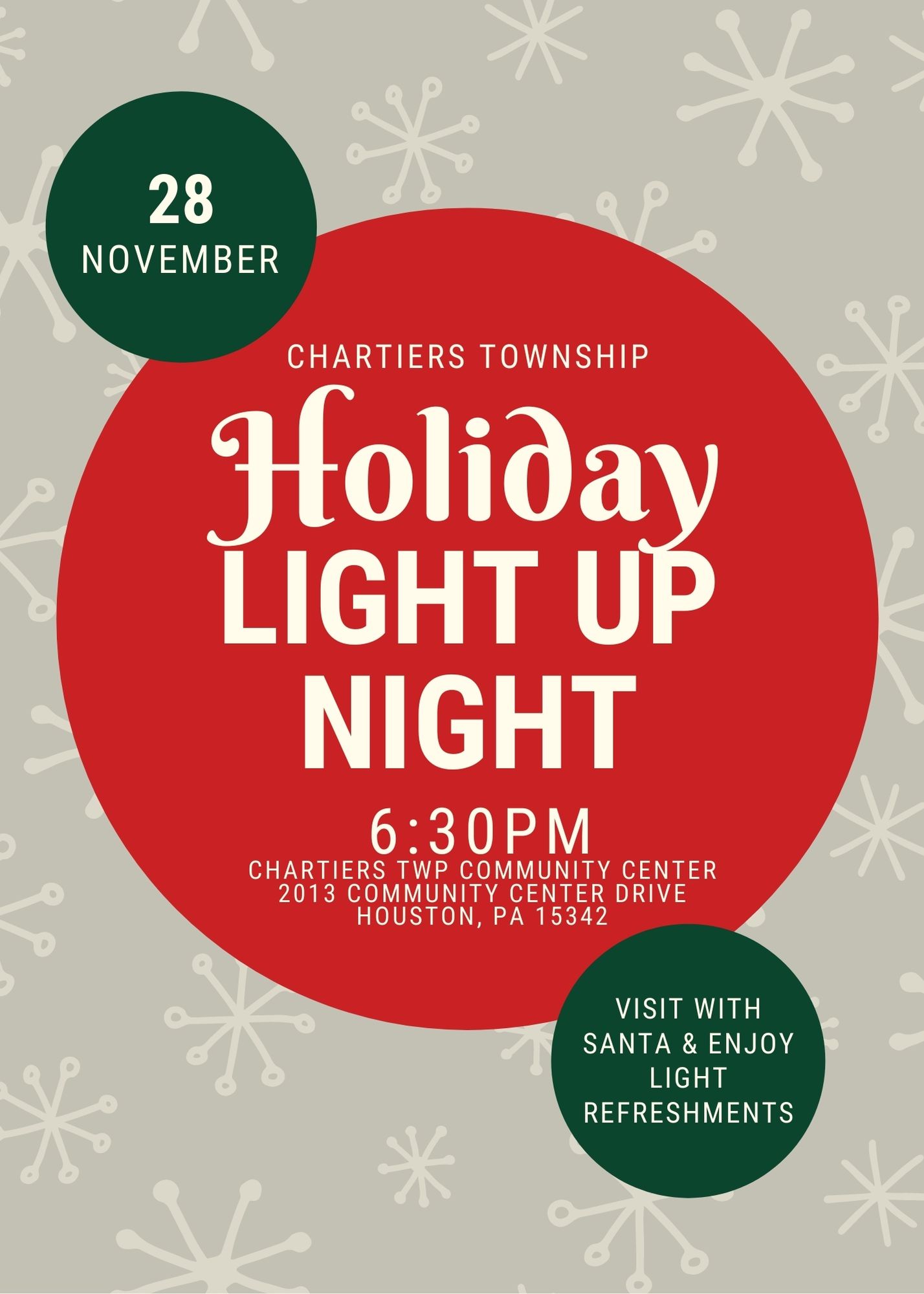 Chartiers Township Light Up Night
Sunday, Novebmer 28, 2021
6:30pm
Visit with Santa & enjoy light refreshments!
---
PAVILION RENTALS
Rentals will open for 2022 January 4, 2022. Availability on a first-come first serve basis. Payment and contract required to confirm all rentals.
Parks Dept Office Closed Mondays – Regulary hours vary Tuesday-Friday. Please make an appointment.
Please contact the Chartiers Township Parks Department in the Community Center for inquiries and availability of our 2 pavilions available for rental: 724-350-6581.
Arnold Park Pavilion: $85.00 for Residents and $100.00 for Non-Residents
Allison Parkette Pavilion: $50.00 for Residents and $100.00 for Non-Residents
Both pavilions require an additional $50 damage deposit payment separate from the rental fee & it will be destroyed after the event if there is no damage
Park use Reservation Reguest Form
After completing the pavilion request form, please return your form and payment to the Chartiers Township Community Center – 2013 Community Center Drive, Houston, PA 15342. Please call to make sure your date is available before sending payment.
Office Hours: Available by appointment
PLEASE NOTE: HOURS MAY BE SUBJECT TO CHANGE WITHOUT NOTICE
---
AGENDAS
MINUTES
Parks and Recreation Board (5 year term)

Meets 1st Tuesday at 6:30 p.m.

Monica Fetsko

2016-2020

Karen Kovac

2016-2017

Charlotte Strimel

2014-2018

Bronwyn Kolovich

2014-2018

Betsy Heinz

2015-2019

Jessica Tedrow

2016-2019

Lisa Renko

2016-2020

Michael Kolovich (CHSD Rep)

2016-2020

Helaina Teahan

2017-2021

Parks and Recreation Director

Staff Liason
Friends of the Park (3 year term, staggered initial terms)

Meets 4th Thursday at 6pm.

Bill Evans

2014-2016

Linda Jardini

(2015) 2016- 2017

Bill Bryker

(2015) 2016-2017

Jill Keefer

2016-2018

Carol Warcholak

2016-2018

Parks and Recreation Director

Staff Liason
Parks Committee (3 year term, staggered initial terms)

Meets: Second Wednesday at 4:00 pm

Dave Mileto

2015-2017

Raymond Margiotta

2015-2017

James Johnston

2016-2018

Michael Kolovich (CHSD Rep)

2016-2018

VACANT
2017-2019

Staff Laison