2020 Chartiers Summer Playground
Join Chartiers Township for our Summer Playground Program from June 8 – August 14 this summer. Crafts, field trips, and fun are at your fingertips! This day camp focuses on capturing the spirit of summer and providing enriching, challenging, and active experiences for time spent out of school. Our mission is to be an affordable and fun camp where children enjoy group outdoor play in an environment that stimulates social growth, and the healthy development of minds and bodies.
Program runs 9am-4pm with additional early drop off/late pick up option for $10 per child. Open to ages 5-11 years old. Parents must send a bagged lunch for their child every day they participate in the program.
Weekdays June 8, 2020 to August 14, 2020
Weekly Fees:
Fees for 1-3 days a week – 1 child – $95/ 2 children – $150/ 3 children – $195
Fees for 4-5 days a week – 1 child – $145/ 2 children – $240/ 3 children – $330
$10 per child for field trips
Mandatory parent's meeting at the Chartiers Township Community Center, 2013 Community Center Drive, Houston, PA 15342 on Wednesday, May 27 at 6:30pm
TO REGISTER – PLEASE COMPLETE THE ONLINE REGISTRATION FORM OR DOWNLOAD IT AND SUBMIT TO US AT THE COMMUNITY CENTER with the $25 registration fee payable to Chartiers Township.
2020 Summer Playground Program Registration Form
OR
Fill out our online registration form here and mail your registration fee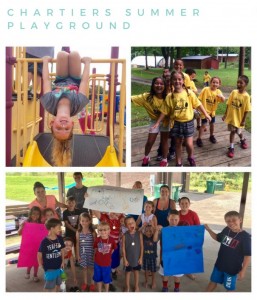 Please contact Jessica Walker at parks@chartierstwp.com with any questions.
Please mail completed forms with your fee to:
Chartiers Playground Program
2013 Community Center Dr
Houston, PA 15342