The 2018 Chartiers Summer Playground will run from June 11 – August 17 this year!
Join us for crafts, field trips, pool days, playground time, and more! This program is a blast for ages 5-11 and is located at the Chartiers Township Community Center – 2013 Community Center Drive, Houston, PA 15342.
If you're looking for a summer day camp for your child – look no further! Call or email us for more information – 724-485-2126 or parks@chartierstwp.com
Costs
4-5 days a week: 1 child-$145/2 children- $240/3 children – $330
2-3 days a week: 1 child – $95/ 2 children – $150/3 children – $195
Additional $10 fee for early drop off/late pick up AND field trip days
Program runs 9am-4pm with optional early drop off/late pickup 7am-6pm
Program is for children ages 5-11
All employees will have background checks and Act 33/34 clearances
NO DROP INS. PRE REGISTRATION IS REQUIRED
A PARENTS MEETING WILL BE HELD ON THURSDAY, JUNE 7 AT 6:00PM. Please contact us for a private meeting if you cannot attend.
If you turn in your registration form and $25 fee by May 18, payment will go towards your child's first week at camp!
Playground Registration Form 2018
OR fill it out online and mail/drop off your payment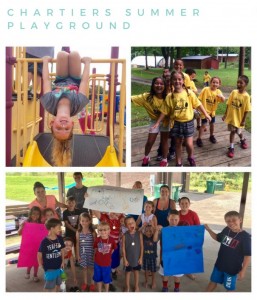 Please contact Noelle Foss at coordinator@chartierstwp.com with any questions.
The link to our flyer/registration form is below. Please mail completed forms with your fee to:
Chartiers Playground Program
2013 Community Center Dr
Houston, PA 15342