Chartiers Summer Playground
Crafts, field trips, and outdoor fun are at your fingertips! This day camp is open to ages 5-11 and families do not have to live in the township to participate. This 10 week day camp focuses on capturing the spirit of summer and providing enriching, challenging, and active experiences for time spent outside of school.
WHO: Elementary age children 5 through 11
WHAT: Daily summer program providing children with activities, games, arts & crafts, music, field trips, special events, and more!
WHERE: Arnold Park Pavilion
WHEN: June 7th through August 13th
9:00am—4:00pm
(early drop off/late pick up available at additional cost)
WEEKLY COST:
4-5 Days/week
1 child- $145; 2 children- $240; 3+ children $330
Fees for 2 or 3 days
1 child- $95; 2 children—$150; 3+ children $195
There will be an additional $10 field trip fee and $5-$10 early drop off/late pickup per child
NO DROP INS. PRE REGISTRATION IS REQUIRED
THERE WILL BE A MANDATORY PARENTS MEETING ON WEDNESDAY, MAY 26th AT 6:00 P.M. OR attend the same meeting via ZOOM THURSDAY, MAY 27 AT 7:00PM
Due to the overwhelming response to the 2021 Chartiers Summer Playground Program, registration is now closed.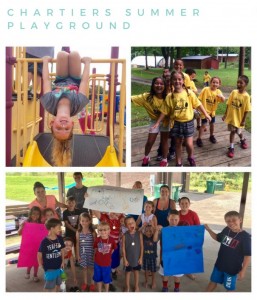 Please contact Jessica Walker at parks@chartierstwp.com or 724-350-6581 with any questions.
Please mail completed forms with your fee to:
Chartiers Playground Program
2013 Community Center Dr
Houston, PA 15342